Wellbeing still failing to make it to the bottom line, says new research sponsored by Generali UK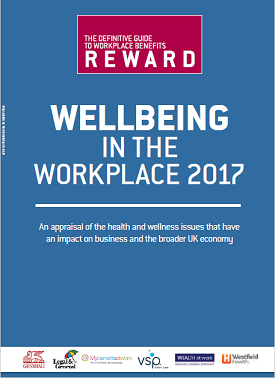 Wellbeing still failing to make it to the bottom line, says new research sponsored by Generali UK
89% of respondents said their senior management team was committed to the wellbeing of staff
Yet the biggest barriers to building a wellbeing strategy were 'justifying return on investment' (57%) and 'lack of senior management commitment' (31%)
The top advantages of offering wellbeing benefits were 'A more engaged workforce' (80%) and 'A more productive workforce' (47%)
84% of employers said that some of their staff 'sickness' was really related to other factors: disengaged staff (80%) and caring responsibilities (78%)
Just under half (47%) of employer respondents have a corporate wellbeing strategy
Although the vast majority (89%) of senior management teams are talking the talk when it comes to recognising the importance of staff wellbeing to business success, that isn't necessarily translated into solid investment and strategic focus. This disconnect is demonstrated by the two biggest barriers to building a wellbeing strategy, namely senior management commitment in nearly a third (31%) of cases and demonstrating return on investment (ROI) in pole position at 57%.

This represents one of the key findings of a major new piece of research entitled Wellbeing in the Workplace, launched today by Reward Guide, in partnership with Generali and various other employee wellbeing specialists.
"The results reveal encouraging support for wellbeing initiatives yet, in some cases, they suggest that senior management teams might be paying lip service. Wellbeing needs to become a bottom-line issue," says Simon Thomas, Head of Employee Benefits & Life Division, Generali UK Branch.

These findings follow calls on the government last year by the Chartered Institute of Personnel & Development[1] to establish human capital management (HCM) reporting standards for FTSE 350 organisations. Such standards, embedded into annual reporting, would measure, report and benchmark the health and wellbeing of employees. It also called on employers to shift from one-off wellbeing initiatives to a proactive employee wellbeing programme.
"The Board need to see results in monetary terms so ROI is essential," adds Simon. "Group income protection providers, in particular, can help in this regard, working in partnership with employers to design absence
management, early intervention and early warning systems, supported by management information based on analysis of absence and claims data plus usage of employee assistance programmes and staff feedback."
Currently, 64% of respondents offer group income protection (IP) – to some extent - as part of their wellbeing strategy, according to the research: 40% to all staff; 21% to selected staff; and 3% as part of a flexible benefits package.

When all respondents were asked for their views on the three biggest barriers to wider take-up of group IP, the perception that it is 'too expensive' came out top (76%) followed by 'lack of understanding by employees' (40%) and 'lack of understanding by senior management' (27%).
Simon comments: "The need for education around cost and value is clear, when you consider that for as little as 0.25% of payroll employees can be covered by group IP.

"Plus they and their families will have access to a huge range of added value services that can prevent problems arising and provide targeted help when they do. Even where only a proportion of staff is provided with the income replacement aspect of group IP, the associated added value wellbeing benefits are available at no extra cost to the entire workforce."
"There are other ways to minimise costs too. For example, growing international SMEs with their base in the UK and as few as 50+ employees can take advantage of cost savings associated with Generali's unique Multiplan pool. Furthermore, by simply notifying the insurer of an absence at a very early stage, employees can be given the assistance they need to get back on their feet quickly, reducing the likelihood of a group IP claim and further reducing costs."
To read the full report, go to Wellbeing in the Workplace Research Report

[1] Growing the health and wellbeing agenda: from first steps to full potential, CIPD, Jan 2016