Wellbeing Investment Matching
The ultimate in support for UK employers, tailored to need.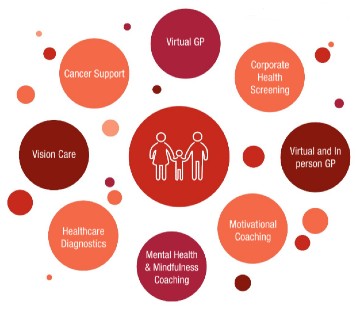 ​Where employers have identified a wellbeing shortfall and would like to implement a new initiative with a view to improving outcomes – anything from virtual GPs to mental health coaching – Generali will work with the employer to help make this happen.
We will consider contributing financially to a whole host of initiatives offered by our wellbeing investment match partners, or from other wellbeing service providers that you may wish us to consider.
Generali assesses potential wellbeing investment match partners on their ability to bring tangible value to a business' wellbeing strategy. Each provider has to meet or exceed Generali's due diligence requirements, which include data security, financial stability and appropriate accreditation.​
Opportunities for Wellbeing Investment Matching can include, but are not limited to services in the following areas:
Virtual and artificial intelligence GPs;
Health assessments;
Fitness solutions;
Health tracking / self-help monitoring;
Whole body screening, using advanced blood testing;
Cancer detection services;
On-site workshops in everything from stress resilience training, mindfulness and sleeping well to improving work / life balance and achieving goals;
Critical incident support.
Vision care services
Financial Education