Webinar | The business benefits of supporting employee wellbeing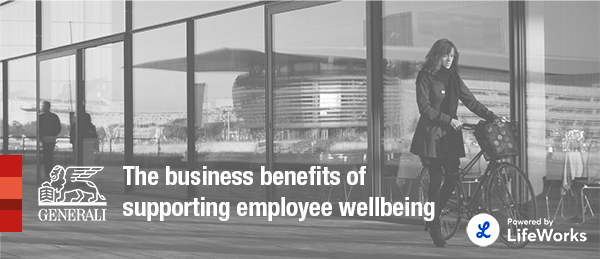 Click here to register for the webinar !
Most of the world's 3.4 billion workers are unwell. Around 76% are physically unfit and one billion suffer from mental health issues. So how does the physical, mental, social and financial wellness of your people affect your business? The cost of unwell workers represents 10-15% of global economic output and at any one moment, most employees are experiencing at least one issue with their wellbeing.
It's no longer enough to view wellness programmes as simply a measure to contain rising healthcare costs. Wellbeing initiatives are now essential tools for organisations keen to secure a competitive edge. A happy, healthy workforce is not only more productive but also bolsters the business in terms of improved recruitment, retention and customer loyalty.
Thanks to Generali's Wellbeing Investment Matching initiative, employers that have identified a specific wellbeing need have the opportunity to put in place targeted services that meet a biopsychosocial approach to wellbeing, including rewards and recognition; perks and savings; mental and physical wellness.
Join this webinar to hear:
How in partnership with LifeWorks by Morneau Shepell, a tech-driven approach means Generali is able to meet people wherever they are in their wellbeing journey at a time and place that is convenient.

Why employees need to be supported with their total wellbeing and what the benefits are for employers in terms of productivity, reduction in absenteeism and presenteeism, reduction in churn and helping retain staff.

How by encouraging people to make small, incremental changes to their habits LifeWorks and Generali are promoting a healthier, happier, more productive workforce.